A deep dive into artificial intelligence this week looking at some of the announcements about what is possible today as well as a look into the future disruption of the workplace.
Possible today.

The possibilities from artificial intelligence are picking up steam again (did it ever really stop?).
Airing on YouTube later today, Google CEO, Sundar Pichai and Youtube CEO Susan Wojcicki are interviewed on the successes and challenges tech is bringing to the workforce today.
We already know one soundbite from Sundar in the interview:
Artificial intelligence will be more profound than electricity or fire.
He also talked about how much we already use artificial intelligence in our day to day lives. Just yesterday, someone was stunned at how easily I could find a photo from a few years ago thanks to Google Photo's ability to recognise objects in a photo.
Popular definition of artificial intelligence remains something out of a Jetsons cartoon though and this definition has been generations in the making. Rosie the robot, from the aforementioned cartoon first appeared all the way back in 1962. The result is that stories of what artificial intelligence can do in discrete situations get extrapolated beyond what is actually possible.
What is possible today though is still astounding.
Microsoft recently showed that artificial intelligence can imagine a bird from a short piece of text: "Create a bird that is red and white with a very short beak."
The result is the image below.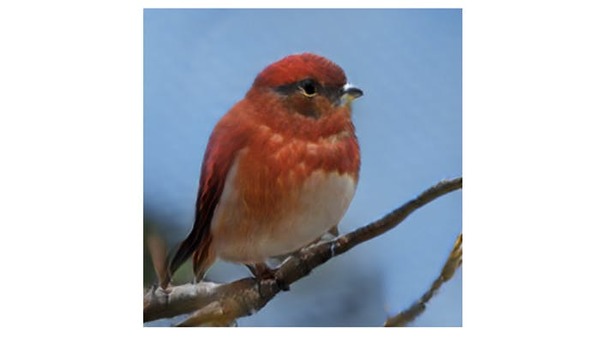 There is clearly plenty of imagination going on in that photo – nowhere was the shape of the bird mentioned, nor that it should be placed on a branch.
However, the researchers showed that this imagination came from historical knowledge of vast numbers of photos viewed. More images showed birds on a branch than flying. So really this is more literal imagination and human-like imagination. When the researchers suggested drawing a bus floating on a lake, it struggled.
This still opens up potential new tools bringing new opportunities. This for example might eventually change the meaning of stock photography or allow Photoshop to fix images quickly.
Just last week, Photoshop rolled out an AI tool to select objects within an image – something that was a laborious task in the past.
Some might contend that it cannot do it as well as if it was done manually and that is probably true but it is unlikely to be noticeable in most scenarios.
Tomorrow?
Whilst there are plenty of opportunities with artificial intelligence, perhaps the biggest fear is around the workplace with people imagining upheavals on a much larger scale to the disruption of the textile industry in Great Britain as factories came online.
The World Economic Forum have released an excellent report looking at the future of the workplace and how jobs might transition in the future. Download it here.
Some of the highlights:
Women are more affected by this disruption than men (57% of jobs disrupted)
Government, trade bodies, companies and individuals will all need to work together to minimise disruption
Administrative and production roles are expected to see the most upheaval by 2026
Something that always gets overlooked is the impact on leadership roles. How will those change? The Harvard Business Review takes a look.
One aspect that is already changing is the ability to make better and faster decisions based on sifting through the vasts amount of data that companies now generate.